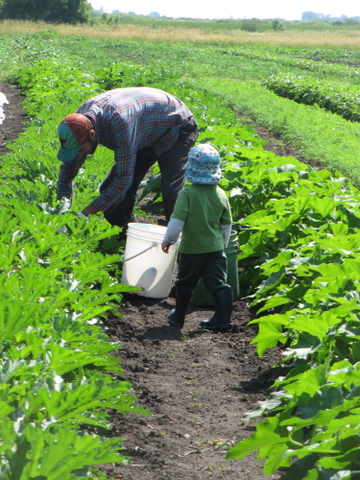 Why Join Prairie Drifter Farm CSA?
Certified organic
Fresh, local produce
High quality
Increase your vegetable intake – heart and mind healthy!
Learn to preserve the harvest
Establish healthy eating habits with your kids
Be creative in the kitchen
Keep dollars in the local economy
Support healthy soils and landscapes
Provide learning opportunities for your family
Spend time at your farm
Eat with the seasons
Be part of a larger community
What our members have said . . .
"We never get over how cool it is that we have you guys as a part of our community and get to experience the joys of a weekly CSA box. We are both from more urban backgrounds, and we miss some parts of that lifestyle, but living in such close quarters with our food is a pretty amazing benefit to living here. My kids are having a totally different "food experience" than I did growing up. We personally know you guys and so many of the other wonderful people who produce the food we eat. Our kids associate food with small farm pick ups. A year into being the main cook in my family had me wanting to throw in the towel. Now I am enjoying cooking more than ever and part of that is due to the challenge and fun that comes in that CSA box."
"The CSA is amazing and I recommend it to SO many people. My kids are exposed to different kinds of fruits and veggies and we're all healthier because we let "the box" guide our cooking every week. I'm so thankful that my family has access to this amazing resource. Thank you for farming the way you do!"
What is Community Supported Agriculture (CSA)?
The Community Supported Agriculture (CSA) model allows you, the share member, to know where your food comes from and how it is raised, while helping to support a growing network of small, diverse family farms. In Community Supported Agriculture, it is important to know that CSA share members share in some of the risks of farming. In a great year, members reap the benefits of a bounteous season with plentiful share boxes. In a difficult year or in the case of a challenging weather event, there may be less produce in the share boxes. Some of the risks that come with the business of farming are hail, high winds, insects, intense heat or cold, excessive rain, drought and of course the unpredictables that come with working with the land. That being said, we take our job as food growers seriously and with pride, and we do our best to mitigate these risks in any way we can. There is limited space available this season, so reserve your shares early.
First and foremost, we strive to provide you with fresh produce that looks great and tastes delicious. We raise our produce organically and are certified through Midwest Organic Services Association (MOSA). We prewash your produce and most of your produce is harvested fresh on the day we deliver to you. Beyond raising healthy and delicious food, it is also important to us to create a diverse and healthy landscape on our farm. We continually work to build healthy soil and vibrant habitats throughout our farm using sound stewardship practices. This model of farming is important to us because of our desire and ability to be part of the local community and stewards to the land.